Reclamation officials talk dams, Klamath Basin, hydropower, drought. What's up with water in the West? Q&A with western water officials, Capital Press 3/4/22.
< Ernest Conant, Bureau of Reclamation Regional Director
Capital Press: "Whatís the game plan for the Klamath Basin? Iím looking for specific ideas or plans that are under consideration to alleviate the crisis there." "...Ernest Conant, Bureau of Reclamation Regional Director, "...We donít have any specific plans right now. Weíre looking at a lot of different options to take a more strategic long-term approach. Itís just a very difficult situation because we have all these competing interests over endangered species, the interests of various tribes and farmers....I canít be much more specific at this point....The bipartisan infrastructure law has $162 million that goes to projects in the Klamath Basin the U.S. Fish and Wildlife Service will be handling. There are a number of things that could be done to improve the fishery, for example, thereby taking off some pressure...Thereís a process being set up for people to apply for the bipartisan infrastructure money, so different districts in Klamath could apply for conservation or infrastructure grants like youíre referring to.Iím sorry I canít give you more specifics about grand plans. There is no grand plan at this point..."
Yellowstone starts bison cull as animals migrate to Montana, Intermountain Farm and Ranch 3/4/22. "...annual program to cull the animals to prevent them from spreading disease to cattle.."
Modoc Nation purchases ranches near Sheepy Ridge 1/7/22. "...bison may be headed to the Klamath Basin ó along with, tribal leadership hopes, cultural healing..."
Hay industry leader David King succumbs to cancer at age 62, Capital Press 2/7/22.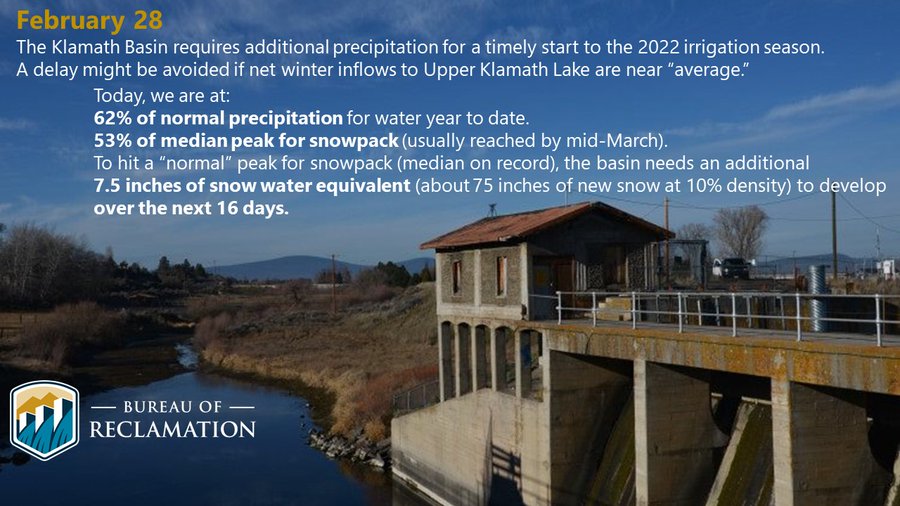 < 2/28/22 For Reclamations's in-depth monthly updates visit http://usbr.gov/mp/kbao