Yes, George Soros had a hand in the Bundy vs FEDS dispute that has thankfully, resulted in federal officials backing off of its demands upon the Bundy family ranch, including halting a round up of Cliven Bundy's cattle. This was not simply a stand off between over-reaching Big Government entities though, but rather a concerted effort by progressive forces to stamp out the kind of resistance figures like Cliven Bundy represent, be they a rancher, farmer, pro-liberty militia, safe borders advocate, small business owner, or alternative media figure.
("America is pissed, and we ain't taking this sh*t no more.")
_____________________________
Here is a small blurb that likely went unnoticed by most, from a recent Las Vegas Review Journal report on the Bundy vs FEDS conflict:
Bundy ranch dispute with federal land agency draws variety of foot soldiers
Cliven Bundy's fight with the Bureau of Land Management over the federal agency's roundup of his cattle attracted a diverse group of foot soldiers: fellow ranchers, Las Vegans and militia and patriot groups were among them.
Their battle cry is the U.S. Constitution and liberty. They fear the federal government overstepping its bounds at every turn. This concern, in their view, applies to those from all walks of life, be it a rural Southern Nevada rancher or a militia member from northern Montana.
Ultimately, the Bundy protest — which was defused Saturday when federal land officials agreed to end the weeklong roundup that culminated in a 20-minute standoff between armed protesters and law enforcement officers — became an outlet for those wanting to voice their opinions about government overreach and any perceived infringement of constitutional rights.
Armed militia members wore holstered weapons and mingled with cowboy-hatted ranchers throughout the week. Tents popped up across the landscape and vehicles became temporary bunks as the Bundy ranch, about 80 miles northeast of Las Vegas, turned into a gathering place for traveling pilgrims from across the nation.
"We're all in this together," said Rick Lovelien, 50, a militia member from Libby, Mont., with the Montana State Defense Force.
The armed standoff ended, Lovelien said, the way it should have — with the cattle returning to the land.
…The Center for Biological Diversity blasted the BLM's decision to release cattle, saying the agency has failed in its mission. The BLM had obtained two court orders for the removal of the cattle.
"The BLM has a sacred duty to manage our public lands in the public interest, to treat all users equally and fairly," Rob Mrowka, a senior scientist with the nonprofit center, said in a statement. "Instead it is allowing a freeloading rancher and armed thugs to seize hundreds of thousands of acres of the people's land as their own fiefdom." LINK
___________________________
"The Center for Biological Diversity" – that title jumped out at me. Like so many insidious groups formed by progressive/socialist interests, the name reeks of a collective mindset, where all things must be forced into the same narrow view of how society should function. (Any time a progressive uses the term diversity, they ultimately mean conformity – we must all think the same or face the consequences)
So I looked up this "nonprofit" group, that was pushing so hard for federal authorities to shut down the Bundy family ranch, and here is what I found:
"the Center for Biological Diversity(CBD) filed a notice of intent to sue the U.S. Fish and Wildlife Service (FWS) if the Service does not create a new nationwide wolf recovery plan" KBC NOTE: CBD is funded by Earthjustice, which is funded by George Soros. The same CBD who is presently suing to take more Klamath Basin irrigation water by changing the biological opinions.
The Green $$$ Scam, Range Magazine, posted to KBC 2/2/11. KBC NOTE: This article articulates the billions of dollars funding the green groups taking our land, water and rights through lawsuits. Last week Center for Biological Diversity, Oregon Wild, Environmental Protection Information Center, and The Larch Company sued to list another endangered species (Environmental groups want Klamath River salmon listed as Endangered Species.) The first 3 groups along with some "friends", "stakeholders" in the KBRA, are all in a coalition together: George Soros, Tides, Ford Foundation, Weeden and dozens more including the federal governmentfund their litigation to destroy our infrastructure/dams and take our land and water. LINK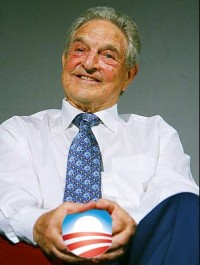 All the familiar names – Soros, Earthjustice, The Larch Company, Tides, Ford Foundation, Weeden – all entities bound by the familiar theme of centralized control of lands, food, water, and other related resources. Control those resources, and you control the people.
So when Cliven Bundy and the hundreds who rallied to his cause on that desolate Nevada ranch last week, staring back at the armed FEDS who would have them silenced by any means necessary, they were staring back at the machinations of George Soros and his ilk, who have been constructing thefoundation for the takeover of the United States for decades now.
Cliven Bundy, and Liberty, won last week. It will take continued vigilance to ensure that victory is not simply a minor and temporary battle in what is an ongoing and far more significant war for the soul of America, just as the Bundy family themselves are likely bracing for a revisit by federal authorities who hope to accomplish their Soros-directed mission once the cameras are off, and people's attention is focused elsewhere.
November 2014 – Let them hear your voices across the nation patriots. Your voices, your discontent, and your determination to see the Great Shining City Upon a Hill once again restored. -UM
______________________________